Make sure you are soaking RAW Nuts and Seeds.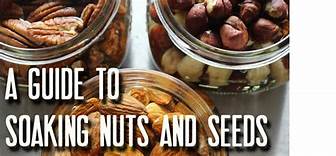 All you need to do is mimic nature's germination system and give those nuts & seeds a good soak to deactivate the phytic acid, giotrogens and enzyme inhibitors.
You can make sure those natural components get properly minimized or eliminated by following these 3 simple steps:
1. Add your nuts/seeds to a glass jar or bowl and mix warm water & sea salt (make sure there's enough water to cover the nuts completely). Soak them for the time required.
2. When done soaking, drain out the soak water and thoroughly rinse the nuts.
3. You can do one of two things: refrigerate the soaked nuts and consume within 24 hours OR dry in a dehydrator (or in oven set on the lowest temperature). Store in an airtight container.
Important note: The soak water should always be discarded and never used as water in a recipe or given to your animals.
Required Soaking Times for Nuts and Seeds
Pumpkin seeds-Pepitas
4 cups of raw, hulled pumpkin seeds
2 tablespoons sea salt
1 teaspoon cayenne pepper (optional)
filtered water
Soaking Time: At least 7 hours, or overnight
Dehydrating time: 12-24 hours, until dry and crisp
Pecans or Walnuts
4 cups of nuts
2 teaspoons sea salt
filtered water
Soaking time: 7 or more hours (can do overnight)
Dehydrating time: 12-24 hours, until completely dry and crisp.
Pecans can be stored in an airtight container, but walnuts are more susceptible to become rancid so should always be stored in the refrigerator.
Peanuts (skinless), Pine nuts, or Hazelnuts (skinless)
4 cups of raw nuts
1 tablespoon sea salt
filtered water
Soaking time: at least 7 hours or overnight
Dehydrating time:12-24 hours, until completely dry and crisp
Store in an airtight container
Almonds
4 cups almonds, preferably skinless- SF notes "Skinless almonds will still sprout, indicating that the process of removing their skins has not destroyed the enzymes [they] are easier to digest and more satisfactory in many recipes. However, you may also use almonds with the skins on. "
1 tablespoon sea salt
filtered water
Soaking time: At least 7 hours, or overnight
Dehydrating Time:12 -24 hours, until completely dry and crisp
* You can also use almond slivers
Cashews
4 cups of "raw" cashews
1 tablespoon sea salt
filtered water
"Some care must be taken in preparing cashews. They will become slimy and develop a disagreeable taste if allowed to soak too long or dry out too slowly, perhaps because they come to us not truly raw but having already undergone two separate heatings. You may dry them in a 200 to 250 degree oven-the enzymes have already been destroyed during processing. "
Soaking time: 6 hours, no longer
Dehydrate at 200 degrees F: 12-24 hours
Store in an airtight container
Macadamia nuts
4 cups of raw macadamia nuts
1 tablespoon sea salt
filtered water
Soaking time: At least 7 hours or overnight
Dehydrating time: 12-24 hours, until dry and crisp.
KNOW YOUR NUTS AND SEEDS
Did you know that raw nuts and seeds have defense mechanisms made up of enzyme inhibitors, toxic substances (tannic acid & goitrogens) and phytic acid?
Yep, these natural components are there for their protection. Nature doesn't want the seed to germinate prematurely or predators to consume them to the point where they become extinct. Those natural components can be removed naturally only when there is enough moisture to sustain a new plant after the nut or seed germinates.
WHAT'S THE BIG DEAL ABOUT PHYTIC ACID, GOITROGENS & ENZYME INHIBITORS?
The biggest defense mechanism in nuts & seeds is the phytic acid. Every nut and seed has different levels of phytic acid with almonds, brazil nuts and sesame seeds having the highest percentage. When something that contains phytic acid is eaten, the acid binds itself to minerals like iron, magnesium, zinc, calcium, manganese and chromium in the gut, which prevents the digestive system's ability to break the nut or seed or grain down properly (that's why, often, when you eat nuts or seeds… you see undigested bits in your stool the very next day).
If you struggle with anemia, low zinc levels, osteoporosis and other illness related to low mineral absorption… you should not be eating un-soaked nuts, especially walnuts, almonds & peanuts.
Even though phytic acid is the big, bad guy in nuts and seeds… goitrogens & enzyme inhibitors should not be overlooked either.
Goitrogens is are known to suppress the function of the thyroid gland by interfering with iodine uptake, which can cause a goiter (enlargement of the thyroid), slow down the thyroid, hypothyroidism and other autoimmune thread disorders. Soaking helps reduces goitrogens and actually increases the necessary minerals needed for a healthy thyroid.
Enzyme inhibitors neutralizes vital enzymes that your body naturally produces and can lead to many illnesses that results of an unhealthy, enzyme-depleted gut. Signs that your body is lacking enzymes are bloating, constipation, diarrhea, heartburn, irritable bowels and gas. A lack of just one enzyme in the body can lead to many problems and you will only live as long as your body has enzymes… which is why it is important to neutralize the enzyme inhibitors to keep them from decreasing your body of its natural enzymes. Soaking increases the natural enzymes within the nuts & seeds, helps provide greater absorption of the its' nutrients and increases digestibility.
Basically, when you eat raw nuts or seeds or grains that have not be properly prepared… those "healthy" morsels are actually robbing you of vital minerals, vitamins and enzymes needed to sustain a healthy body.