Didem Miraloglu, MD, MS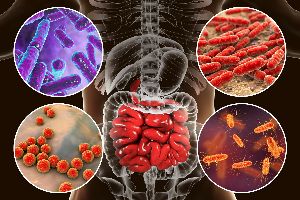 Since their discovery, antibiotics have been a godsend in terms of eradicating infections and saving millions of lives. Without antibiotics, common infections and minor injuries used to be life-threatening, and surgeries and chemotherapy were nearly impossible. Today the tables have turned on us, whereas, 50 years ago we were reaping the benefits of antibiotics, in the past 2 decades antibiotic resistance has become one of the leading causes of death in the world for people of all ages.
To comprehend the weight of this problem, we must first understand what the gut microbiome is and the role it plays in human health and disease. The gut microbiome is comprised of almost 40 trillion bacterial cells and has anywhere from 500-1000 bacterial species comprising nearly 2 million genes. The gut microbiome contributes to human body functions such as digestion, metabolism, protection from pathogenic microbes, production of vitamins, as well as the regulation of the immune system and inflammatory reactions.
A healthy gut microbiome has high diversity, and any kind of disruption may lead to dysbiosis, an imbalance between the commensals (those bacteria which normally reside in and on us without harming us) and the pathogenic bacteria. Antibiotic use can reduce the diversity of the species in the gut microbiome, alter their activity and select and breed antibiotic-resistant organisms. Short term effects of antibiotic use include diarrhea, Clostridium Difficile infection, and antibiotic resistance, whereas long terms effects can be the development of allergic conditions, such as asthma, food allergies, and obesity.
The problem of antibiotic overuse and misuse does not only stem from treatment of human infections but mainly from their use within the animal industry. The amount of antibiotics used for human infections is four times less than the quantities used for breeding livestock. Antibiotics in the animal industry are added to the feed of animals to improve their growth. They accomplish this by inhibiting the growth of microbes in the gastrointestinal tract which triggers immune responses in the host. This in turn is cost-effective to the producer since more meat can be produced with the usage of less feed.

Antibiotic misuse in both animals and humans has led to a significant increase in antibiotic-developed resistance. This is where a particular antibiotic is no longer effective in treating an infection. The consequences are anywhere from increased human illness, suffering and death, increased cost and length of treatments, and increased side effects from the use of more powerful medications.

There are many suggested solutions to alleviate this ongoing health crisis. Some things you can consider to prevent further antibiotic resistance are:

Don't rush to treat your runny nose or cough. Be sure that the antibiotic is necessary and not just convenient to use for shortening the duration of the infection. In up to 95% of the cases, bronchitis is viral and there is no cure for the common cold, it gets better on its own with over-the-counter remedies.
Consume antibiotic-free dairy and meat products, pasture-raised farm animals rather than factory-farmed animals
Ask your doctor to use a narrow spectrum antibiotic if possible to treat the most common organism causing that particular infection rather than a "shotgun" approach, using an antibiotic that kills all
Shortest effective duration of antibiotics (this does not mean discontinuing the antibiotics once feeling better, there are specific guidelines for a minimum duration of use for certain infections)
Adhere to the antibiotic prescription
Take a high-quality daily probiotic while on an antibiotic

Taking a high-quality probiotic as soon as you start antibiotics is another way to counteract the side effects of antibiotics. If you are able to, start taking probiotics a week before taking the antibiotics. Separate them out by two hours while on the antibiotics and continue for 3-4 weeks from the start of the antibiotics. After a month you can decrease the dose to your minimal effective dose for your optimal health outcomes. The probiotics help to restore some of the healthy gut microbiomes lost through antibiotic therapy. Strains of Lactobacillus and Saccharomyces (a beneficial yeast) can help mitigate antibiotic side effects. This in turn contributes to better adherence to antibiotic prescription thereby reducing the evolution of resistance.
Generating and maintaining diversity in the microbiota is a new clinical target for health promotion and disease prevention.

Fecal Microbiota Transplantation FMT) is a therapy and is one of the main treatments against antibiotic-resistant infections. This is whereby stools either from the same individual before the antibiotic use or from a healthy donor are introduced orally or via enema or probiotics. This stems from the premise that the gut microbiota in healthy donors is dominated by a large number of probiotics. Many studies have shown that FMT restored both the gut microbiota composition and function in patients who suffered from recurrent Clostridium Difficile-associated diarrhea. Some studies have shown that the worldwide mean cure rates of FMT for diarrhea are approximately 91%. To date, this is better than any other treatment we have for antibiotic-associated C.Diff colitis.
We can envision in the not too distant future, antimicrobials and therapies which will be prescribed for their direct anti-pathogen benefit while simultaneously limiting collateral damage to the microbiome. Until then it is essential to keep our bodies healthy by taking good care of our gut microbiome.
 
Contact our office to schedule an appointment  to learn more about optimizing your health.
Your Partner in Health!
Didem Miraloglu, MD, MS