Sara Yadlowsky, FMHC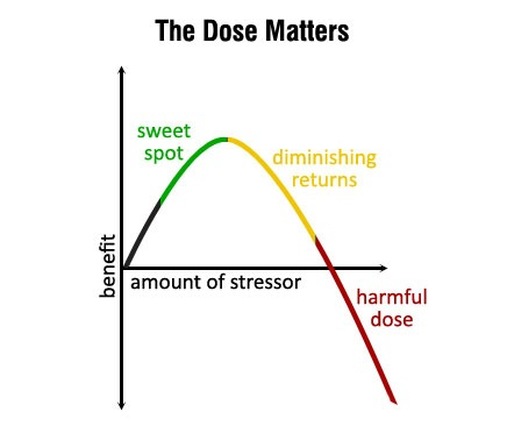 What doesn't kill you makes you stronger. We've all heard the saying before. Science has revealed it is surprisingly accurate when it comes to our health and longevity.
Hormesis is the idea that short, intermittent bursts of certain stressors can start a cascade of cellular processes that slow aging, improve overall health and make you more resilient, both physically and mentally. It is a hot topic in longevity research right now.
We all know that chronic stress caused by relationship issues, financial problems and working too many hours is detrimental to our health. However, hormetic stressors are controlled and acute, triggering healthy adaptive responses.
What does all this mean in real life? Hormesis is the common thread found in some popular health and fitness trends such as HIIT (high intensity interval training), cold exposure, heat therapy and intermittent fasting. Prolonged doses of these behaviors are not healthy or sustainable. For example, if you spend too much time in a sauna you will become dehydrated. But, in short bursts, the bodily stress caused by these practices are enough to bring about health benefits such as reducing inflammation, supporting elimination of toxins, repairing DNA, combatting oxidative stress, repairing cellular damage and reducing risk of cancer.
Here are three ways to strategically stress your body and reap the rewards:
HIIT – Do a HIIT workout 1-3 times a week. HIIT workouts are intermittent bursts of intense effort for 30 seconds, followed by 15 seconds of rest. These workouts are usually short, around 15-20 minutes. You can easily find these HIIT videos on YouTube.
Hot or Cold Therapy – Infrared sauna is a great way to heat up and sweat out some toxins. It also reduces inflammation and pain. In contrast, ice baths, cold showers and the new cryotherapy chambers that are popping up everywhere will cool you down quicky. Cold therapy is also known for reducing inflammation and pain. Both types of therapies may help strengthen the immune system.
Intermittent Fasting – Fasting triggers a cellular "clean up" response called autophagy. Autophagy results in several health benefits such as lowered cholesterol, reduced blood pressure and reduced inflammation. For many, a 16:8 intermittent fasting schedule (16 hours of fasting followed by an 8 hour feeding window) works well. However, we recommend that you experiment with the timing to see what works best for you.
Be aware that adding stress (even the good type!) to our lives can backfire if done at the wrong time.  When life is already very stressful, it is best to wait until a better time when you are more relaxed to try out these new practices.
Your Partner In Health,
Sara Yadlowsky, FMHC