By: Sara Yadlowsky, FMHC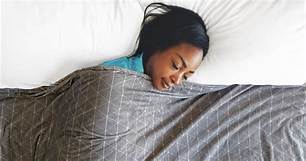 Most of us know how important it is to get a good night's sleep.  Seven to nine hours of quality restorative sleep is ideal.  But this type of sleep sometimes eludes us.  Here are ten tips to help with more and better sleep.
Preparing for the next day can alleviate some of the stress that keeps us up at night. You can get a jumpstart on the next day by packing your lunch, picking out an outfit, bathing at night instead of the morning and jotting down a to-do list.
Shut down your devices at least 2 hours before bed. If you must be on your phone or computer try wearing blue blocker glasses that keep the blue light out of your eyes. This blue light that is emitted from our electronics suppresses the release of melatonin which is the hormone that makes us sleepy.
Try a supplement to help you get to sleep faster and stay asleep longer. Some examples: magnesium, melatonin, L-Theanine, passionflower, valerian and CBD oil. Start with the minimum dose and work up as some people are more sensitive to these supplements than others. Certain calming essential oils such as lavender, chamomile and eucalyptus are also very beneficial to quality sleep.
Create a bedtime routine. Try to do roughly the same thing every night before bed to help signal to your body that it's time to sleep. Relaxing ideas are meditation, a hot shower or bath, light stretches, journaling and reading a good book that's not too thought provoking.
Get some exercise during the day. Any type of movement helps you sleep better at night. Exercising outside is particularly helpful due to sunlight exposure. Be careful not to exercise too close to bedtime as this can raise your cortisol levels and make it harder to fall asleep.
Try some 4-7-8 breathing after you get into bed and turn off the light. Place the tip of your tongue on the back of your front teeth, breathe in through your nose to a count of 4, hold your breath for a count of 7 and exhale slowly through your mouth to a count of 8. Repeat this 4 times. This breathwork is fantastic for calming your nervous system.
As much as possible go to sleep and wake up at the same time each day. This will help train your biological clock. Our bodies crave a consistent schedule when it comes to sleep.
Finish all eating 3 hours prior to going to sleep. This allows digestion to occur while you are still awake and prevents insomnia and heartburn.
In the winter try sleeping with a hot water bottle instead of an electric blanket. It will keep you warm and help you to fall asleep more quickly.
Make the last thing you do before falling asleep a list of 5 "wins" for the day. Five things that happened that felt good or five accomplishments. When you make this the last thing you focus on you sleep more soundly and wake up in a better frame of mind.